Your website design is like the facade of a house— it's the first impression people get of your business! So, how is your curb appeal?
When a potential customer or client rolls up, are they going to be enchanted by the possibilities and welcomed to explore further? Or are they just going to drive away? If you were selling your home, for example, you'd want to deck out all of the trimmings, and when it comes to selling your products or services online, you should be doing exactly the same.
It's those fine details that not only attract leads, but convert them into sales! 
Wondering what it takes to give your website the best curb appeal on the block? Here are the boxes you should be checking…
This one may be pretty obvious, and open to some artistic interpretation, but let's go over what it means to have a good-looking website. It should represent your business, what it is you are selling, and match your brand aesthetic. It should be clean, organized, and free of visual clutter, with even spacing between elements, high-quality images, and easy-to-read text. It should be sleek, modern, and professional to make you look well established and intriguing. When you look at a website it should say, 'Trust me and give me money!" through its design. 
Your website should work well and work fast! Have you ever been stuck on a page that just won't load? Or have you ever been sent to an error page? That's likely because the website hasn't been optimized or someone isn't doing their regular maintenance. (Tsk, tsk.) It's important to check and double-check all of your pages, systems, and processes regularly to make sure they're all working as intended. Fast and functional websites keep customers, while slow and broken websites will cause your customers to bounce and high-tail it over to someone else. 
People are in a hurry and they don't want to sift through your website to find the information they need. If they can't make heads or tails of what's going on or where to go, then they won't have a good experience. User experience, that is! Which is something you should always keep in mind. Navigation should be obvious, with a clear hierarchy, and be consistent across your website. Use clear calls to action that suggest to users what to do next. Large, well-defined sections and headings make your content skimmable and easy to digest. You can also suggest related content to encourage them to experience even more of what you have to offer.
It Has Fresh, Quality Content
Has your website basically been the same for years? It's not just a set it and forget it kind of thing. Just like a house, it's important to update and renovate to keep things fresh. It makes your business look active and engaged! The content should also be something that your users want, that piques their interest and keeps them coming back for more. Having a blog on your site is a great way to check this box.
It's Optimized for Mobile
Part of having a well-designed and easy-to-use website is that it works well on mobile. Your mobile design should not be an afterthought because in today's world most users are surfing on their phones. All website builders have mobile responsive options, be sure to make the most of them. And keep in mind that if your website is clean, uncluttered, and well designed in the first place, then mobile optimization will be a cinch.
It's Optimized for Search Engines
SEO, a.k.a. Search Engine Optimization, makes your website and its contents easier to pick up by search engines like Google. If you were selling roller skates and you appeared on the 15th page of a Google search for 'roller skates,' chances are you're not selling as many roller skates as a company that appears on the 1st page of that Google search. Properly titled pages, use of headings, image titles, and fine-tuning your metadata on the back end all play an important role here. 
Linking your website to all of your social media accounts (and vice versa) will drive traffic both ways! This is a great way to nurture potential customers and continue building that relationship after they've purchased. Or keep shoppers engaged and browsing your content. Having your social media channels link to your website also helps your SEO (which we talked about in the last step) because it shows that your brand is well established on the web. 
"Copywriting" is a fancy-schmancy marketing term for any type of writing with the intent to sell. Your website basically is one big selling mechanism, so what it says and how you say it is important. The tone should match your branding and profession. For example, if you offered bookkeeping you might be very plain and professional with your choice of words, but if you offered vintage clothing you could be a little more relaxed. Your words should inspire people to take the next step with you and to desire what it is that you are offering. 
It Has Your Business Info
Your website is the first place people are going to look for an address, directions, hours of operation, phone number, email, or other contact info. Customers expect to find these things on your website so make sure they are in relevant locations like the homepage, contact page, footer, and header.
In the early days, the internet was like the wild wild west, with little to no rules or regulations. But now that it's been around for a while, the law is catching up, and online privacy is a hot topic. Your website needs a privacy policy, terms of use, and a disclaimer. A privacy policy lets users know what type of data you collect and how you use that data. Terms of use let people know how your website is intended to be used, and to what extent. A disclaimer limits your responsibilities and releases liability in rendering information or services.  Having all three of these raises your credibility, respects your users, safeguards your business, and keeps you out of trouble. (We talk more about this in another blog article.) 
When customers come knocking on your front door, website design that checks all of these boxes will be a powerhouse of opportunity for your small business! Need help getting your curb appeal in check? We've got you covered at Vibes Media Co.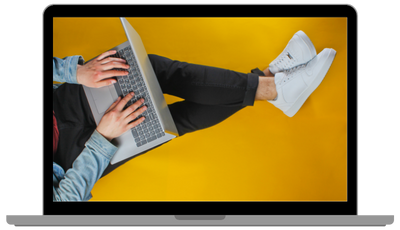 Fast, functional, optimized, and oh-so good-looking. Learn more about website design services from your digital marketing dream team.